Disney Dreamlight Valley is one of the highest anticipated games of 2022. where else would we get the chance to play as multiple Disney characters who we grew up watching? Some exciting details about the game have surfaced that will allow players to use the multiplayer option. But is this news credible? To read everything relevant about Disney Dreamlight Valley Multiplayer, continue reading the article!
Make sure that your PC has 10GB of free space, as it is one of the requirements of the game. To put it simply, the game will offer you a magical world of both Pixar and Disney characters. So, even if we don't get the multiplayer update, it will still be worth playing. Those who have already experienced the gameplay through the early access have said the game is more like Animal Crossing but with animated characters from Disney. And the reason why it is getting so much support is because of the unique set of characters. 
When will Disney Dreamlight Valley Multiplayer launch?
As for now, there is no multiplayer co-op in the game! So, you can only play the game with a single-player option. However, in the future, you will be able to play the game with your friends and with other people online as well. This news came via an official source. However, it will take time till this update reaches us. But it is not a far-fetched idea.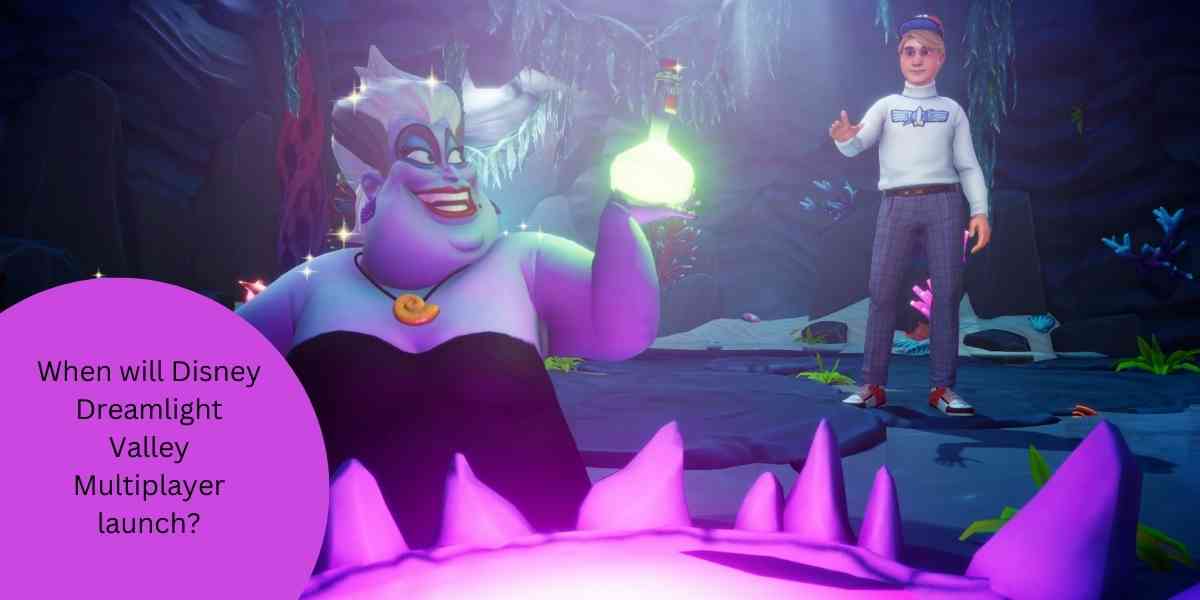 It will get the update once the game is out of Early Access. As its release date is still unknown, we can't give you an exact date to expect to get the early access. The Gameloft developers who played an important role in the production of the game assured the fandom that they would start working on the multiplayer mode soon. 
Gungrave G.O.R.E Will Premiere in 2022
What is Hogwarts Legacy release date and platforms?
So, it is a bummer that we are not getting the multiplayer co-op right away with the game's launch. But good things come to those who wait! And hopefully, this long wait will be worth it. So, that was everything you needed to know about Disney Dreamlight Valley Multiplayer. For more such updates, stay tuned! 
More about Dreamlight Valley
The gamers who have played the game have complained about the scarcity of resources. Seaweed is not available in a few places, which has led to problems for some characters. However, this might be just a glitch. And hopefully, the team will fix it before the game properly launches. 
The currency through which you can move on forward in the game is Dreamlight. But of course, you need to work hard to earn it. You'll get the chance to earn Dreamlight with daily tasks. Completion of these tasks will lead you to better opportunities; thus, you will get levelled up. In the beginning, it might seem hard to crack the code for winning Dreamlight, but as you grow as a character, it will become easier. In the end, it is all about the right strategy! 
Everything That You Need To Know About Genshin Impact Candace
'Dead Space' remake to launch in early 2023
Now you must have a rough idea of what the game is offering. We have also given you a brief overview of the characters of Disney Dreamlight Valley. These are the characters that you'll come across in the game; Merlin, Mickey Mouse, Minnie Mouse, Goofy, Scrooge McDuck, Donald Duck, Prince Eric, Ariel, Elsa, Anna, Kristoff, Remy, Maui, Moana, Wall-E, Beast, Belle, Jessie, Woody, Ralph, Vanellope von Schweetz, Timon, Simba, Stitch, Sulley, Pumba, Olaf, Nala, Buzz Lightyear, and Cinderella!
Of course, if we have the good guys, we also have the body guys! The main villains of the game are Mother Gothel, Ursula, and Scar. According to the official synopsis of the game, the Disney and Pixar characters lived in Dreamlight in peace until something happened. The chaos started spreading after the Forgetting. Gradually this calamity took over the once happy town, and the people retaliated to their homes. Now, as a player, it is up to you to discover these issues and deal with them. So, the future of Dreamlight is in your hands! 
GTA 6 Will Have At Least 4 Cities & It Will Be 500 Hours Long
Disney Dreamlight Valley will make its way to mainstream platforms like Xbox, Nintendo Switch, and even PlayStation. So, look out for its official release!