With the latest update, 3.1 miHoYo has added a new character! Candace, the Guardian of Aaru Village, will prove to be an effective addition. Because of her rich backstory! With its reveal, the character has received criticism because of its skin tone. According to some fans, the character of Candace has been whitewashed. But has miHoYo issued any statement regarding this matter? You'll read all about Genshin Impact Candace in the article below! So, let's begin. 
These criticisms are well justified because the majority of Genshin Impact's characters have the same skin tone. The diversity is missing. For those who don't know, Candace is from Sumero. This region represents South Asian culture, but with the reveal of the character, fans weren't so delighted. Due to the addition of these regions, they had high expectations from the update. They were hoping to see more characters with a darker skin tone to represent the South Asian or Middle Eastern community. But these hopes were shattered when only Dehya had a dark skin tone. It was frustrating because Dehya is the only one with this feature. None of the other Sumero characters look anything like him!
'Dead Space' remake to launch in early 2023
GTA 6 Will Have At Least 4 Cities & It Will Be 500 Hours Long
MiHoYo will have to address this matter because the fans were infuriated. They showed their anger even on the official Twitter account of Genshin Impact. Not only this, but the name Candace holds much greater significance. But the team did not pay much attention to it. According to some theories, Candace is derived from Kandake! Kandake women are queens and are of African descent. So, they should have paid attention to this crucial detail. 
According to the official description, Candace is a descendant of King Deshret. As it is inspired by Egypt, it hasn't helped in calming down the anger. Candace's attire is much like Kandake women, but her skin tone is the only feature that differs. Out of the 50 Genshin characters, only 2 of them have dark skin tone, which is not acceptable to the fans. What are your thoughts on this matter? Let us know in the comments below! 
The official details regarding Genshin Impact Candace
As mentioned before, Candace is heavily inspired by Egyptian lore. She belongs to the Sumero region. In the official reveal of Candace, she had a shield! Which is unlikely of Genshin characters. So, our warrior queen will be the first one to possess a shield. It is truly the beginning of a new era!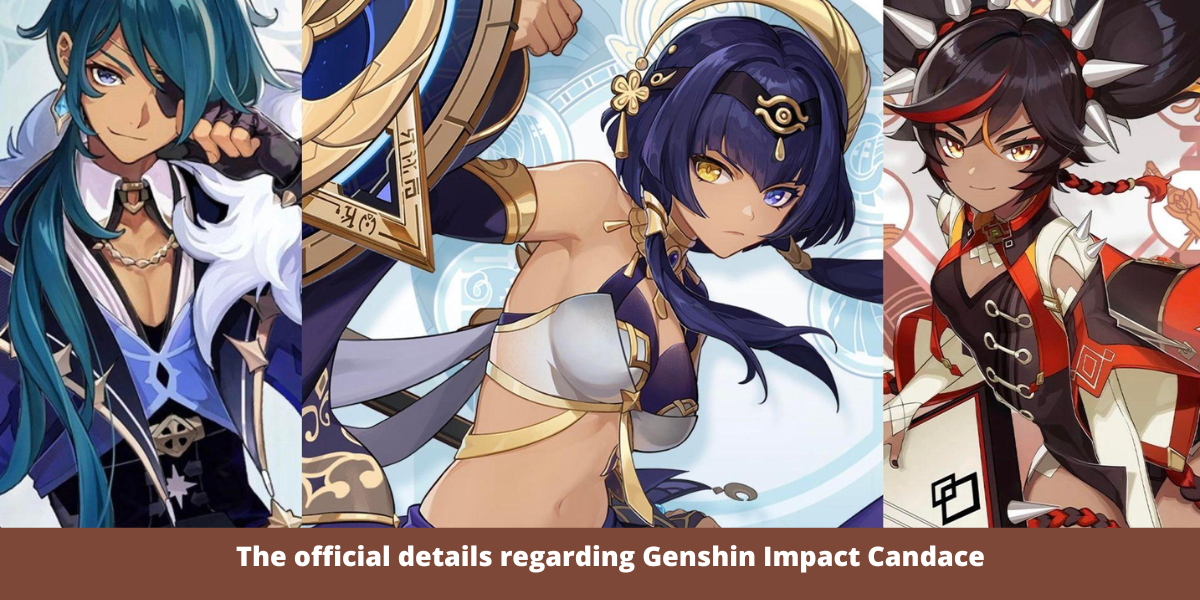 The official tweet which mentioned Candace had the following bullet points:
Candace

Golden Vow

Guardian of Aaru Village

Hydro

Sagitta Scutum
Sagitta Scutum, in simple words, means arrow and shield. Hence, these two things must hold greater significance to the character. 
Sea of Thieves Season 6 Adds three new achievements
Rocket League gets animated in Season 6 – Release Date, Cars, Trailer and Details
Candace has impressive eye-watering powers! As she is the Guardian of the Aaru village, the habitants see her as a kind saviour. And she'll do anything to keep the people and her land safe from threats. We are still waiting for the official abilities, Candace, but up till now, we haven't received any such updates. According to some insiders, Candace will be able to buff her party members. It also depends on the weapon types. But she'll most certainly be able to use hydro infusion and other attacks as well. Candace can be both strict and kind. It totally depends on how you behave with her. Her ultimate goal is to keep her village well and protected. To find out more about her skills, constellations, and talents, you will have to wait longer. 
With the launch of 'The Morn a Thousand Roses Brings', the gamers will get months of content to keep themselves busy with. Up till now, the updates have been quite generous. Although they are flawed in some way or the other, we are still hoping that the team will work hard to fix all the issues. 
In Update 3.1, Candace is not the only new character! In fact, two more characters, namely Cyno and Nilou, will also join her. There is no official release date for Update 3.1, but it will most likely make its way to the fans in late September. Moreover, for those who don't know, Genshin Impact will also be present at this year's Gamescom event. 
So, that was everything you needed to know about Genshin Impact Candace! For more information, stay tuned.