Kendall Jenner is an American reality television personality and model who has been in the entertainment industry since childhood. We all saw her in her pre-teen years talking about being a supermodel. Well, today, she is one of the highest-paid supermodels, and hence Kendall Jenner net worth is often of interest to people.
Kendall Jenner Net Worth
As of 2023, Kendall Jenner net worth is around $60 million. She has earned this amount through her appearances in Keeping Up With The Kardashians and its other spin-off series, her career as a supermodel, several brand endorsements and lastly, her business ventures.
Moreover, it has been revealed that she earned $10 million between June 2015 and June 2016. She continued working hard and earned another $10 million from June 2016 to June 2017. The following year was Kendall's year, as even Forbes declared her the highest-paid supermodel that year. After all, she earned $22 million from June 2017 to June 2018. Then, in 2019, Jenner made another $12 million. Overall, Kendall's earnings have really boosted her net worth.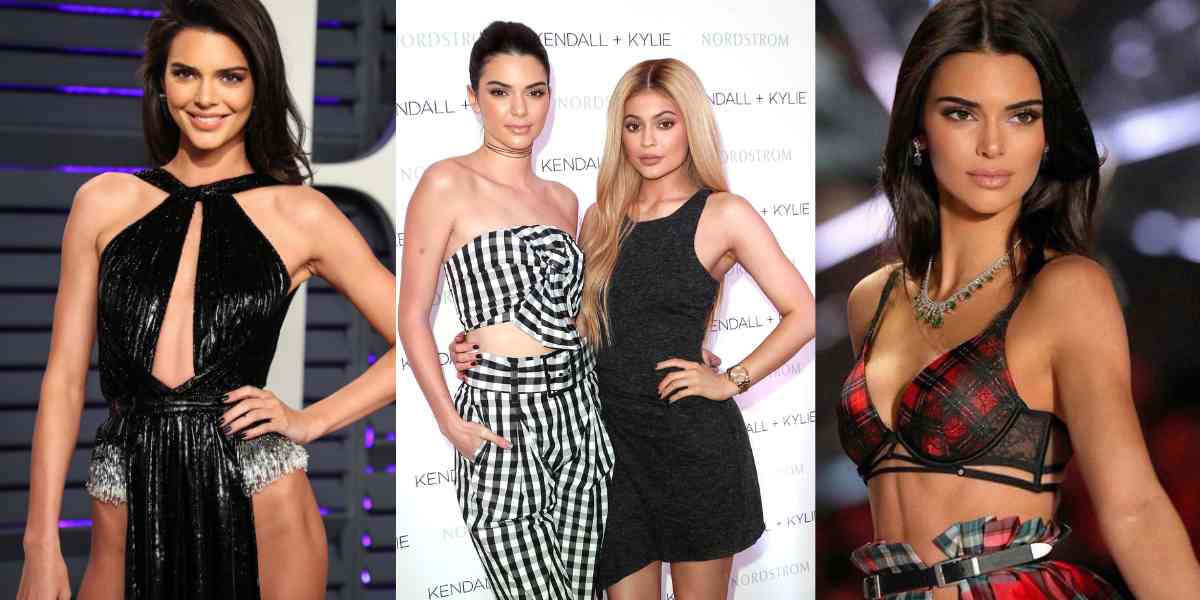 Early Life
Kendall Jenner was born in Los Angeles, California, on November 3, 1995. She is the daughter of Kris Jenner, a reality TV personality, and Caitlyn Jenner, a former Olympic decathlete. Kendall has one younger sister, Kylie Jenner, and eight older half-siblings from her parents' previous marriages. Her famous half-siblings include Kourtney, Kim, Khloé, Rob Kardashian, Brandon Jenner and Sam Brody Jenner. 
Related: Olivia Dunne Net Worth: How She Became Famous and How She Earns From Sponsors?
She studied at Sierra Canyon School but later switched to homeschooling to focus on her career as a model. She finally graduated from high school in 2014. Kendall grew up in a wealthy and famous family and was often featured on her family's reality TV show, Keeping Up With The Kardashians.
Kendall Jenner

Career
Jenner began her career as a model when she was just 14, as she signed with Wilhelmina Models. She soon began working with various clothing brands, and her first modelling job was for Forever 21's campaign Rocker Babes with a Twist in December 2009 and January 2010.
Soon, in April 2010, Kendall Jenner got a chance to be featured on Teen Vogue. Then, in September 2011, she walked in the Mercedes-Benz Fashion Week for Sherri Hill. By the end of 2012, Jenner had started getting recognition as a model as she got featured in several magazines.
In November 2013, Jenner signed with The Society Management, and this was when Kendall Jenner net worth began taking off. Kendall Jenner got her big break when she walked in the Marc Jacobs fashion show during New York Fashion Week. Since then, she has become a highly sought-after model, walking in numerous high-profile fashion shows and appearing on the covers of magazines like Vogue, Harper's Bazaar, and Elle.
Related: Miley Cyrus Liam Hemsworth Divorce: Why Their Relationship Didn't Last?
Kendall has also continued to appear on reality TV, with regular appearances on Keeping Up with the Kardashians and other spin-off shows. Overall, Kendall Jenner has established herself as a successful model and entrepreneur with a wide-ranging career that shows no signs of slowing down, and that is the secret behind the massive value of Kendall Jenner net worth.
Brand Endorsement and Other Ventures
Kendall Jenner has endorsed several high-profile brands throughout her career. She has been the brand ambassador for Calvin Klein and has appeared in many of the brand's ad campaigns. Kendall has also worked with Adidas, promoting the brand's clothing and footwear lines. Moreover, the 27-year-old appeared in a controversial Pepsi ad that was widely criticized for its tone-deaf portrayal of social justice protests. 
Kendall has also worked as a brand ambassador for Estée Lauder. Additionally, Kendall became the face of Tiffany & Co.'s new jewellery campaign. The 27-year-old also earns a huge sum from her social media posts which help increase Kendall Jenner net worth.
Apart from brand endorsements, Kendall has also launched her clothing line with her sister Kylie. In fact, Kendall Jenner, her younger sister Kylie, and the Kardashian family have successfully secured several profitable business deals. For instance, she collaborated with Nicole by OPI to create two nail lacquers for the Kardashian Kolors nail polish line. She earned a combined profit of $100,000 with Kylie through this deal. 
The Jenner sisters also partnered with Mascal Mouawad's Glamhouse to create a jewellery collection, Metal Haven by Kendall & Kylie. The sisters also worked with Nordstrom to create a shoe and handbag line for Steve Madden's Madden Girl line.
Related: Who is Marcia Gay Harden? Is She Married or Not?
Additionally, in 2015, Kendall Jenner got a chance to collaborate with Whalerock Industries and release a paid subscription mobile app website. In 2016, Kendall and Kylie partnered with Glu Mobile to launch the Kendall and Kylie app, a spin-off of their older sister Kim's app. This helped boost Kendall Jenner net worth.
She has also been involved in various philanthropic efforts, including supporting the American Red Cross and the Children's Hospital Los Angeles.
Kendall Jenner Personal Life
Kendall Jenner has been relatively private about her personal life. However, she has been linked to a number of high-profile celebrities over the years, including singer Harry Styles, basketball player Blake Griffin, and musician A$AP Rocky. 
Related: What is Hunter Awtrey Cause of Death? Was it Natural Death or Accident?
Kendall has spoken publicly about her struggles with anxiety, including panic attacks and insomnia. She has also discussed how her anxiety has affected her career and personal life.
Like many celebrities, Kendall is active on social media, with a large following on platforms like Instagram and Twitter. She has used her social media presence to promote her various projects and brands and to speak out about social and political issues, including Black Lives Matter and climate change.
Real Estate
Kendall Jenner has owned and lived in several properties. In 2014, Kendall purchased a two-bedroom condo in West Hollywood for $1.3 million, and she later sold the property in 2017 for $1.5 million. 
Related: What Is Ali Wong Net Worth in 2023?
In 2016, Kendall purchased a home in Hollywood Hills from actors John Krasinski and Emily Blunt. She then sold this property in 2017 for $6.85 million. The main reason for selling this home was that it was semi-exposed, which led to Kendall having some stalker incidents. 
In October 2017, Kendall purchased a Beverly Hills mansion for $8.55 million. Kendall purchased this home in the gated community of Mulholland Estates.