Harley Quinn, everyone's favorite criminal clown, is set to return to our screens in season 3, but when will it premiere? Since its release in 2019, the adult animated series based on the DCEU character of the same name has gained critical acclaim for its quirky aesthetic and dark comedy. However, following several delays, many fans are curious about the details of Harley Quinn season 3 and speculate on what catastrophic escapades the Gotham baddie would be involved in next.
Harley sets out to prove herself amongst Gotham's criminal elite after breaking up with her abusive ex-boyfriend, the Joker. We watched her vanquish both the Joker and Batman in the first season. In season 2, the ponytailed villain confronted the 'Injustice League,' a gang of Batman's usual opponents who were hell-bent on taking control of the city now that Batsy and the Joker were gone. After a time of amnesia, Season 2 finished with a wrecked wedding, plenty of explosions, and Joker returning to his nasty ways. Undoubtedly, the previous season left us with many unanswered questions, a few cliffhangers, and a lot of excitement for Harley Quinn season 3.
Fortunately, after a year of delays, the new season is almost here. So, in anticipation of Harley's next set of mishaps, we've compiled all the information you'll need on the DC animated series. Here's what you need to know about the upcoming season of Gotham's criminal queen, including the release date, trailer, plot, actors, and more.
Harley Quinn Season 3- Release Date: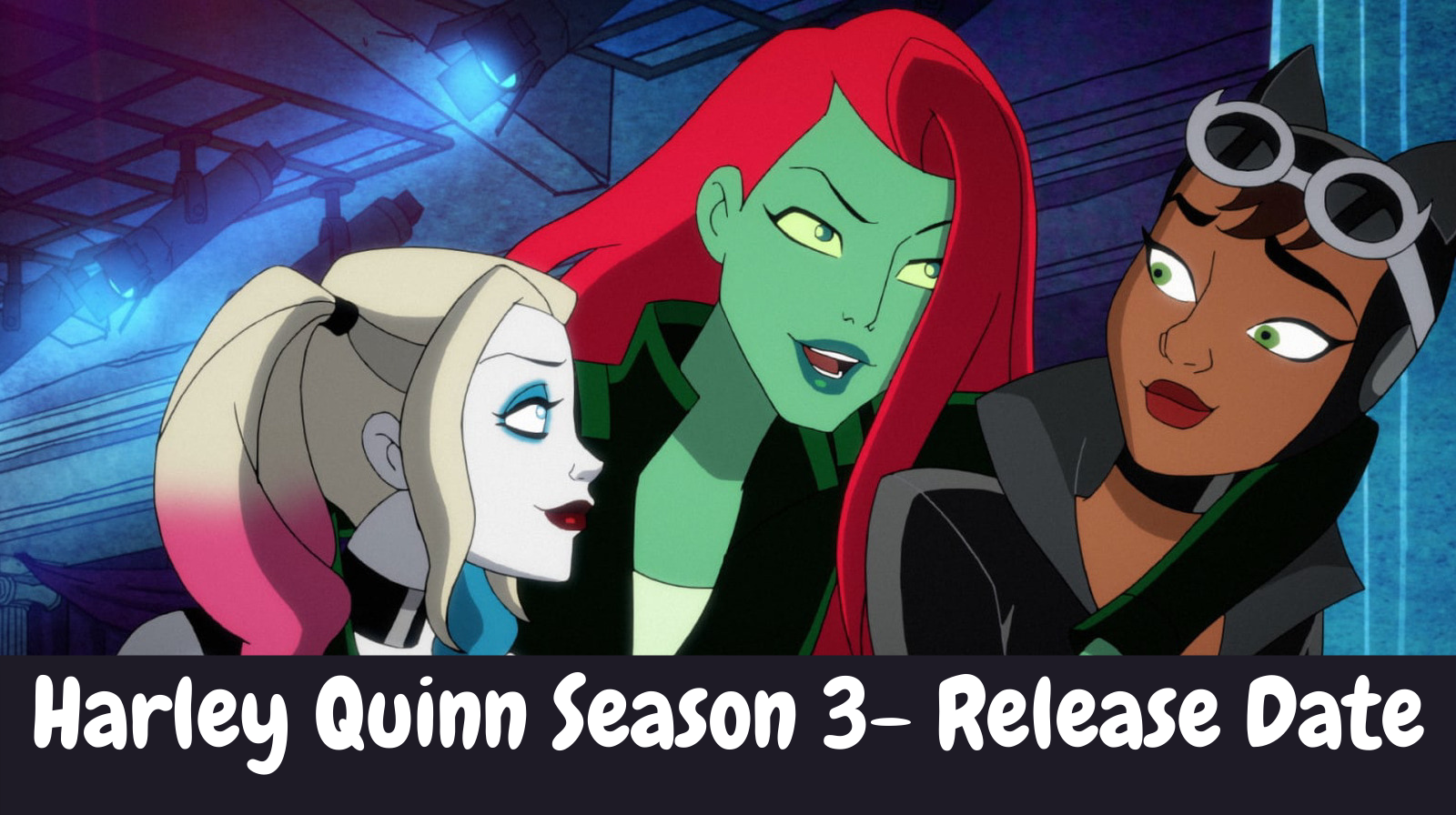 In a nutshell, no one knows. Harley Quinn season 3 is still to be given a solid release date, even by the show's creators. "I think it'll probably come out at the very end of this year or the very beginning of next year, just because animation takes so long," showrunner Justin Halpern said on the Masters of None podcast. However, despite Halpern's forecasts, 2021 has passed, and the show will now premiere in 2022.
A teaser preview for Harley Quinn's upcoming season was shown during DC FanDome 2021, and the main animated character mentioned in passing that season 3 will be coming to HBO Max "sometime in 2022." We expect the next instalment of the cartoon series to be released in the first half of the year, based on Halpern's past statements; however, nothing has been confirmed as of yet.
In any case, we can expect the next chapter in Harley's animated adventures to arrive soon. In 2020, HBO Max released a photo stating that Harley Quinn season 3 was on the way. Patrick Schumacker, the showrunner, has also verified that the audio mix for Season 3 is now complete, indicating that the series is in its final stages of production! So expect more clown-related bloodshed in the near future. We'll update you as soon as we have any new information. Seasons 1 and 2 are available on Prime Video in the meantime.
Harley Quinn Season 3- Trailer:
So, while we don't have an official trailer for Harley Quinn Season 3, we do have the sizzle reel that was displayed at DC FanDome. Harley appears in the promotional video to apologize to the viewers for the long wait for Season 3. We are welcomed with black and white footage from the upcoming season after she apologizes for the delays.
In the teaser, Harley and Poison Ivy are still in the honeymoon stage of their romance, about to embark on a "eat, marry, kill tour." They won't be able to skip happily into the evil sunset, though.
Commissioner Gordon and a slew of Gotham criminals are seen chasing them down in the footage. In brief, the sizzle trailer promises fun, explosions, and a glimpse inside Harley and Ivy's relationship, despite the fact that it isn't a fully animated clip.
Harley Quinn Season 3- Plot:
Even though we don't have an official synopsis for Season 3 of Harley Quinn, we can get a pretty good idea of what the plot will be owing to the sizzle trailer from DC FanDome and some tidbits from the show's writers.
After a long-awaited connection, Harley and Ivy ran from Ivy and Kiteman's wedding at the end of season 2. That's correct; two Gotham girls are finally together after two seasons of romantic tension. We saw the two on a romantic trip, stopping in Paris and robbing a few banks along the way in the sizzle reel. With this new romance, however, expect some hot drama. While balancing her new romance, Harley is seen briefly bumping into Ivy and Kiteman, and she is seen basically having to confront most of Gotham's baddies, Batman and Commissioner Gordon.
Speaking of relationships, we'll finally get to see Batman's on-again, off-again romance with Catwoman in Season 3. Following the release of the video, DC issued an official statement declaring, "Heroes don't do that." The caped crusader is frightened of foreplay, that's right. The team has been directed to edit the sequence, although it's unclear whether it's fully gone or if another sexual act has taken its place. In any case, it appears that Batman will be getting a little rowdy this season. Aside from the Ivy and Harley narrative and the Batman and Catwoman conflict, Halpern teased that there will be a stand-alone Joker episode in Harley Quinn season 3, which we will see inside his warped mind. Season 3 of Harley Quinn could potentially feature some new characters.
Patrick Schumacker, the show's writer and producer, shared a photo on Twitter with a spoiler. "So excited for y'all to find out which new characters show up in season 3 of @dcharleyquinn," he wrote beside a photo of director M. Night Shyamalan and a chicken wing.
It's quite clear that the joke alludes to Nightwing's entrance in Season 3 of Harley Quinn. However, nothing has been said about what we can expect from Dick Grayson (Batman's first sidekick) in the next episode.
Mad Hatter will also make a cameo in Season 3, according to Halpern. The Mad Hatter, also known as Jervis Tetch, is a DC supervillain whose main powers are brainwashing and hypnotism. He's also a great complement to Harley Quinn's quirky series. We're delighted to see more DC characters integrated into Harley Quinn's plot now that at least two more inclusions have been semi-confirmed. Stay tuned for an official Harley Quinn season 3 summary.
Harley Quinn Season 3- Cast:
P'dding, good news! For Harley Quinn season 3, the core cast from the previous two seasons will return. Lake Bell will reprise her roles as Poison Ivy and Cheryl, and Kaley Cuoco will reprise her role as Harley.
In season 3, though, we can expect to hear some new voices. On Twitter, Schumacker confirmed that Sam Richardson will be joining the series in an unspecified role.
The team was also looking for a trio of new voices for some "villains who have really meek, old men voices," according to Halpern. So far, he's keeping an eye on Nathan Fielder, John Wilson, and Joe Pera, but nothing has been confirmed.
So far, the cast of Harley Quinn Season 3 is as follows:
Kaley Cuoco as Harley Quinn
Lake Bell as Poison Ivy and Cheryl
Ron Funches as King Shark
James Adomian as Bane
Sanaa Lathan as Catwoman
Christopher Meloni as Commissioner James Gordon
Matt Oberg as Kite Man
Alan Tudyk as Clayface, Joker and others
Diedrich Bader as Batman
Jacob Tremblay as Robin
Matt Oberg as Kite Man
Jason Alexander as Sy Borgman
Tony Hale as Doctor Psycho
J. B. Smoove as Frank the Plant
Giancarlo Esposito as Lex Luthor
Demon Slayer (Kimetsu no Yaiba)' Season 2 premiere: How, where to watch 'Entertainment District Arc,' streaming