Demon Slayer (Kimetsu no Yaiba)' Season 2 premiere: How, where to watch 'Entertainment District Arc,' streaming
As part of the start of the next arc, Demon Slayer: Kimetsu no Yaiba will have a one-hour premiere. So get ready! A big return to the anime scene in 2021, the anime adaptation of Koyoharu Gotouge's manga series had gotten off to a slower start as the first seven weeks are spend retelling the events seen during the Mugen Train feature film last year.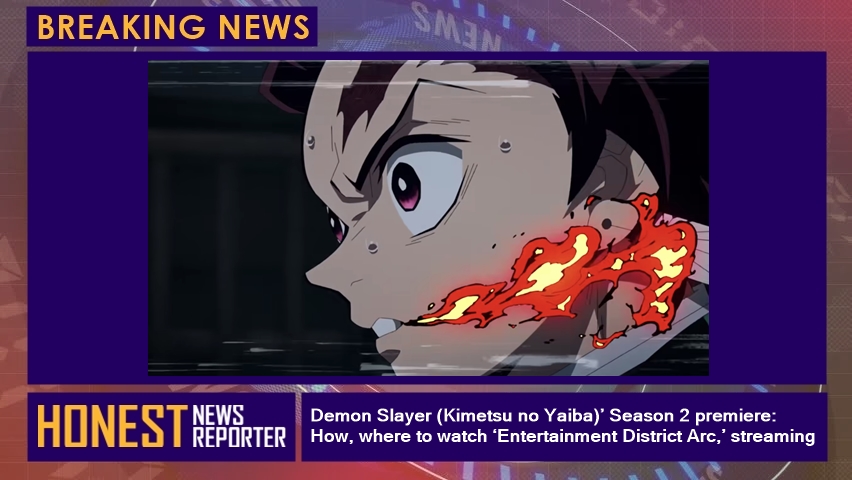 With its next episode, the second season will finally begin the next arc fans have been waiting for. 
Demon Slayer: Entertainment District Arc, which follows the end of the Mugen Train arc (which concluded with Season 2's previous episode). Will officially premiere on Sunday, December 5th at 10:45AM EST.
There will be options for fans outside of Japan to stream the hour-long premiere episode. They can watch it on both Funimation and Crunchyroll in the original Japanese language with English subtitles. So after watching through Season 2's Mugen Train arc, your routine for watching new episodes won't change at all!
A new dimension has revealed itself! 🤖

RUMBLE GARANNDOLL launches in English dub tomorrow!

Rin – @severelylindsay
Hosomichi – @NazeehTarsha
Misa – @TeeDotally

Read more: https://t.co/UX7dKLmpty pic.twitter.com/TEFYfrN1nE

— Funimation (@Funimation) December 5, 2021
Many anime fans had been looking forward to seeing brand new material from Studio UFOtable. Moreover, the first glimpses at the first episode seem to promise quite an intense experience. As Funimation describes Demon Slayer: Entertainment District Arc. "Demon Slayer: Kimetsu no Yaiba tells the story of a young boy in search of a cure for his sister after demons brutally murder a family. Immediately following the Mugen Train Arc, the Entertainment District Arc introduces Daki, a new major demon that the young heroes must fight."
What to expect?
The number of episodes for this new arc has yet to be officially announced so far. But considering there is a lot to cover, it's entirely possible it will continue into the Winter 2022 schedule next January.
What is your opinion? Will you be returning to Demon Slayer Season 2 now that there is new material available? Share your thoughts!