After more than 30 years of career in the entertainment industry, fans are wondering what Hilary Swank net worth is. After all, the actress has delivered some of the biggest hits, such as Million Dollar Baby and Boys Don't Cry. 
Moreover, the actress does not fit in well in movies that come under the genre of romantic comedies and sweet love. Instead, she is the perfect fit for movies that move the audience emotionally and physically, which has helped her connect with her audience more. The actress is indeed one of a kind, and this is why Hilary Swank net worth is of much interest these days.
Hilary Swank Net Worth
As of 2023, Hilary Swank net worth is around $70 million. She has collected this net worth through her long acting career, brand endorsements and other business ventures.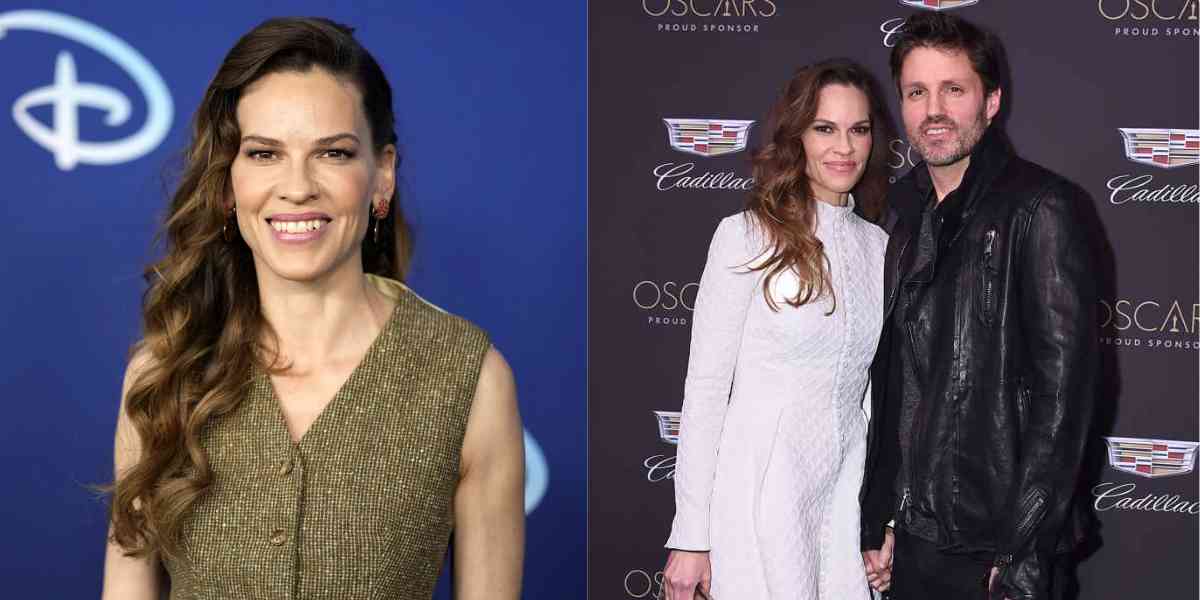 Hilary Swank's Early Life
Born on July 30, 1974, in Lincoln, Nebraska, United States, Hilary Swank's life is a real-life story of rags to riches. She grew up in a trailer park with her mother, Judy Kay, who worked as a secretary, and her father, Stephen Michael Swank, who was a Chief Master Sergeant and later became a travelling salesman.
In high school, Swank competed as a swimmer in the Junior Olympics and Washington State championships. Moreover, she became an excellent gymnast and one of the top 5 in Washington state. She also developed a love for acting and began performing in school plays. 
Related: ​​What Is Stephen Greif's Net Worth? Personal Life and Death 
Hilary's parents separated when she was young, and she went on to live with her mother. At the age of 15, Hilary and her mother shifted to Los Angeles so that she could pursue her acting career. However, they struggled financially, which resulted in the duo living in a car. They shifted to an apartment after Hilary's mom could afford one. This motivated Hilary more to work hard and become a successful actress.
Hilary Swank Net Worth Through Her Career
Hilary Swank's acting career began in the early 1990s, and she quickly made a name for herself as a talented actress. In 1992, Hilary Swank got to play a small role in Buffy the Vampire Slayer. This was her first major acting role and helped her enter the world of Hollywood. By the mid-90s, Swank got roles in better and bigger movies such as The Next Karate Kid and Terror in the Family.
Then, she got a chance to appear in Beverly Hills 90210 in 1997. In the series, she played the recurring role of a single mother. After this guest appearance, she landed several roles in films and TV shows.
Related: Lil Keed Cause Of Death Could be His Previous Health Issues:
In 1999, Swank's breakthrough role came in the movie Boys Don't Cry as she won an Academy Award for Best Actress. She played the role of a trans man and got paid only $3000, but the recognition she received after this movie was unimaginable. She later won a second Academy Award for her role in Million Dollar Baby in 2004. Since then, Swank has continued to work in film and television in various genres, which has helped her build Hilary Swank net worth to its value today.
In addition to her acting career, Swank has worked as a producer and entrepreneur. She has produced several movies, such as Something Borrowed. The 48-year-old has also co-produced the biopic Amelia in which she acted as well. She played the role of aviator Amelia Earhart. This has also contributed a great deal to Hilary Swank net worth.
Hilary Swank Net Worth Through

Brand Endorsements and Other Ventures
Hilary Swank has been the face of several brand endorsements throughout her career, including campaigns for luxury brands like Guerlain and Calvin Klein. In 2011, she signed a multi-year contract with the Swiss watch brand Hublot. These brand endorsements have given a boost to Hilary Swank net worth.
Related: Nikki Reed Pregnant: She Is Expecting Her Second Child With Ian Somerhalder
Hilary Swank has ventured into several business and entrepreneurial endeavours throughout her career. In 2016, she co-founded the luxury athletic apparel brand Mission Statement with her friend, Kara Goucher. The brand features sustainable and eco-friendly materials and focuses on versatility, functionality, and style.
Swank has also produced several films and television shows through her production company, 2S Films. She co-founded this company with producer Molly Smith.
Philanthropy 
Swank has also been involved in various philanthropic endeavours. In 2006, she launched the Hilary Swank Foundation, which aims to support organizations that help improve the lives of children and provide better access to education. She has also been an advocate for animal rights, supporting the Best Friends Animal Society and other animal welfare organizations.
In addition, Swank has served as a Global Ambassador for the charity organization UNICEF and has been involved in various humanitarian efforts, including helping to rebuild homes in New Orleans after Hurricane Katrina and working with HIV/AIDS organizations.
Hilary Swank's Personal Life
Hilary Swank has been married twice. She first married actor Chad Lowe in 1997, and the couple finalized their divorce in 2007. Swank then married entrepreneur Philip Schneider in 2018 after dating him for over two years.
Swank has been open about her personal life and has discussed her struggles with her father's health and her personal health issues. In 2007, her father underwent a lung transplant, and Swank became an advocate for organ donation. She has also spoken about her health issues, revealing in 2016 that she had been diagnosed with a small ovarian cyst that was surgically removed.
Related: When Will All The Queen's Men Season 2 be Release? How To Watch It?
Swank is known for her love of fitness and has often shared her workout routines on social media. She has also been a longtime vegetarian and advocates for a healthy lifestyle.
Real Estate
Hilary Swank has owned several impressive properties throughout her career, thanks to Hilary Swank net worth. In 2002, she purchased a townhome in West Village, which was over 3,700 square feet. She then sold this property in 2008 for over $7 million.
In 2007, she purchased an over 6,7000-square-foot Mediterranean-style villa in the Pacific Palisades neighbourhood of Los Angeles. The property features six bedrooms, eight bathrooms, a gym, a media room, and a swimming pool. She bought this property for $5.8 million. In 2012, Swank put this property on the market but then took it off. She put this same property back on the market in 2021 for $10.5 million.
In 2016, Hilary purchased her very own ranch property. Her husband and she rescues animals which usually end up on this property.
Related: Shemar Moore Net Worth: What Is His Real Estate?
She also purchased a historic Parisian mansion. The property, which dates back to the 17th century, is located in the Marais district of Paris and features four bedrooms, a private courtyard, and a rooftop terrace with views of the city.
Swank has also owned several other properties, including a luxury apartment in New York City's Greenwich Village, which she sold in 2017. Overall, Swank's real estate portfolio is impressive, featuring properties in some of the most desirable neighbourhoods in Los Angeles and Paris but looking at the total value of Hilary Swank net worth