Dreamworks Animation confirmed that the Fast & Furious Spy Racers franchise is getting fast & Furious Spy Racers Season 5 very soon!
Netflix's original animated series was created in 2019 by Gary Scott Thompson and has ever since retained its enormous fandom. The show takes its inspiration from the Fast and Furious films.
It is set in similar locations to the films. The only difference is that the show was released for a younger audience. Spy Racers has Tony Toretto in the lead. Tony, with his other team members, works for a secret agency. Through the course of 4 seasons, they have traveled all the parts of the world, and in the upcoming season, you'll see the Spy Racers crew in the South Pacific.
But when will Fast & Furious Spy Racers come to their ultimate destination: Netflix? We have answered all such questions in the article below!
Fasten your seatbelts because we are about to reveal information at a supersonic speed!
When will Fast & Furious Spy Racers Season 5 go on air?
The upcoming season will release on Netflix on 13th August 2021. It has a total of 8 episodes which will all be released at the same time. So good news, because you can binge-watch it in one sitting!
The upcoming film is produced by Tim Hedrick, Bret Haaland, Vin Diesel, Neal Moritz, and Chris Morgan.
Will the same voice-cast return for the Fast & Furious Spy Racers Season 5?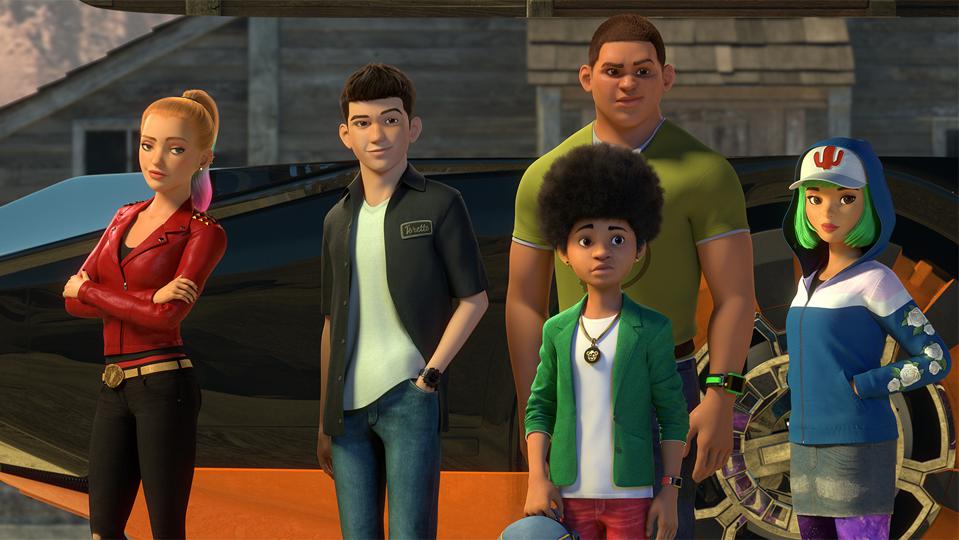 Yes, expect the original voice-cast to come back in the upcoming season. Here is quick catchup on the voice cast and their characters:
–Tyler Posey as Toney Toretto
He is the cousin of Dominic Toretto (Vin Diesel), and his sole purpose in life is to succeed like Dominic.
–Charlet Chung as Margaret Pear
She is a born spy with god-gifted amazing abilities, and somehow she happens to be Toney's close friend. Ms. Nowhere appointed her as a spy in season 3, but she regretted this decision because Margaret does not like getting ordered around. Fun fact about her: she hates her name; hence she goes by the nickname "Echo." 
–Jorge Diaz as Cisco Renaldo
Renaldo is an amazing mechanic and another close friend of Toney. 
–Camille Ramsey as Layla Gray
Layla is a strong independent woman who got recruited by Ms.Nowhere in the 2nd season. She is the most reliable member of the team and also one of the best racers.
–Luke Youngblood as Frostee Benson
He is a very exceptional character. The youngest crew member and also the only one without the car. But his age has nothing on his hacking capabilities.
–Renée Elise Goldsberry as Ms. Nowhere
She is the mastermind behind all the expeditions of Toney's team. Ms.Nowhere ensures that everything goes according to a certain order. 
–Avrielle Corti as Rafaela Moreno
Moreno will only make a guest appearance in the fifth installment.
That was all about the original cast, which is bound to make a comeback. But as the franchise is getting popular with every season, we might get some other guest appearances in the show, which we will only find out once the 5th installment goes on air.
What is the main plot?
The 5th season will show the crew traveling to the South Pacific ocean to come across an old enemy. Now, who is that enemy? We don't know that yet.
The trailer of Spy Racers seasons 5 was a major information dump for the fandom. They will have to face new challenges. Like in the trailer, we see them suffer while they try to convert their racing cars into submarines for a crazy underwater race.
Sudarikov will stir more trouble for the crew in the 5th installment. He now possesses a new machine that can strip off any one of their special abilities. Toney will be one of these victims (he'll lose his ability to race). Sudarikov has one goal in his life, and that is to achieve world domination no matter how!
Season 5 will not be different from its predecessors. It will offer the same enthralling and piquant content.
Moreover, as the animated series has many things to explore, you can expect more seasons from the showrunners!
Is there any official trailer
?
Yes, you can watch the official trailer on DreamWorksTV World's official YouTube account. The amazing 3D experience will blow your mind!

And that is a wrap on all the updates regarding Fast & Furious Spy Racers Season 5's updates. If you found this article informative, we are sure that you'll love reading about Disney's upcoming live-action film "Jungle Cruise." Read it here! (attach Jungle Cruise's article)