After his highly publicized divorce from Mackenzie Scott in 2019, Amazon CEO Jeff Bezos seemed to have moved on quickly. His girlfriend, Lauren Sanchez, became the centre of attention. Let's delve into the details of their relationship and learn more about this billionaire's love life.
Lauren Sanchez: Background and Personal Life
Lauren Sanchez, a news anchor, caught Jeff Bezos' attention following his divorce. It was not her first public relationship, as she was still legally married to Patrick Whitesell when she began dating Bezos. Sanchez's divorce was finalized in October 2019, while Bezos's was completed in April of the same year. She co-parents two children, Ella and Evan, with Whitesell and also has a son named Nikko from her previous relationship with NFL player Tony Gonzalez.
How Jeff Bezos Met Lauren Sanchez
Jeff Bezos and Lauren Sanchez had been dating for nearly five years before getting engaged. Reports about their relationship surfaced in 2019, shortly after Bezos' divorce. The couple had preferred to keep their romance private until recently. Sanchez often expresses her admiration for her fiancé, stating that he inspires her and motivates her to become a better version of herself.
Interestingly, Jeff Bezos met his now-fiancée through her then-husband, Patrick Whitesell, who is the executive chairman of Endeavor. As both Bezos and Whitesell were well-connected in the industry, they first met in 2006 at an Amazon Studios event celebrating the film "Manchester by the Sea." Subsequent meetings were arranged, including Sanchez's participation in Amazon's annual MARS conference, dinners with Bezos' brother Michael, and collaboration between Sanchez's company, Black Ops Aviation, and Bezos' space company, Blue Origin. Their relationship blossomed as Sanchez, a helicopter pilot, took Bezos on thrilling aerial adventures.
Related: Who Is The Brother Of Andrew Tate? What Does He Do?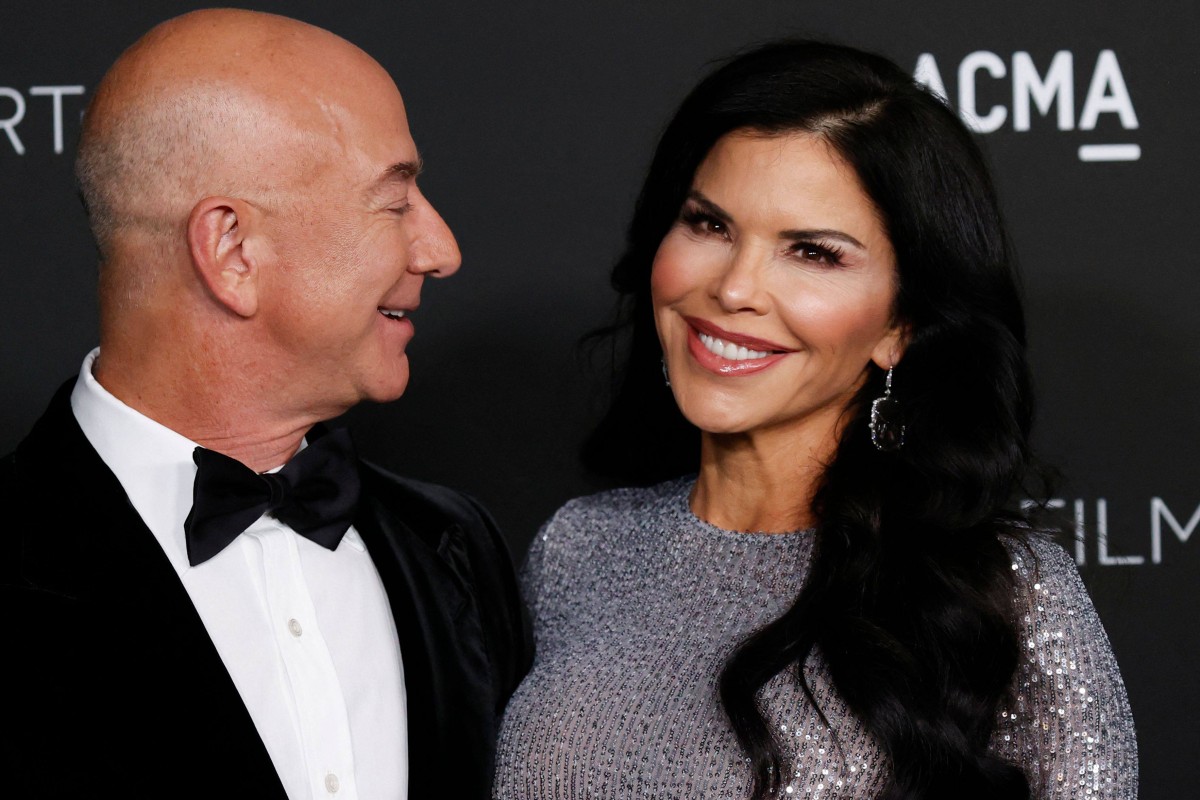 Luxurious Experiences and Perks
Dating a billionaire comes with its perks, and Jeff Bezos made sure to spoil his fiancée. The couple enjoys fancy dates, as evident from their recent extravagant yacht trip in the South of France. Bezos reportedly booked the yacht for $500 million following their attendance at the prestigious Cannes Film Festival. They are avid travellers and share a love for exploring the world together. Sanchez has expressed her desire to visit space one day with her female friends, and Bezos may finance such a trip through his company Blue Origin, although he won't be joining them on the expedition. Throughout their relationship, the couple has been hounded by news reporters, documenting their private helicopter rides, private jet travels, luxurious yacht trips, hikes in the forest, stay in five-star hotels, dinner dates at exquisite venues, and leisurely drives in limousines.
Related: Who Killed Tupac Shakur?
The Engagement Ring
After months of exclusive dating, Jeff Bezos and Lauren Sanchez are finally engaged. Sources confirm that Sanchez has been spotted wearing a sizable heart-shaped white diamond ring, a fitting choice for a billionaire's fiancée.
Lauren Sanchez's Net Worth
Although Lauren Sanchez has acquired significant wealth, her net worth is not on the same scale as Bezos'. She started her career as an entertainment news reporter and anchor, with notable positions such as anchor on "Good Day LA" and correspondent on "Extra." Sanchez has also pursued a career as a helicopter pilot and became the first woman to run a company specializing in aerial filming called Black Ops Aviation. She has made cameo appearances in films and TV shows and has received Emmy nominations for her exceptional work and dedication.
Lauren Sanchez may not have amassed a billionaire's fortune, but her multifaceted career and ventures have contributed to her success and financial stability.
Related: Who Is Tyga Dating? Is He Dating Avril Lavigne Again?