Addison Rae's mom's pregnant news is all you can see now on TikTok and other social media networks. To those who do not know, Sheri Nicole, aka Sheri Easterling, is the mother of a famous social media star, Addison Rae. Sheri surprised the world when she made headlines with her debuting relationship with Yung Gravy, aka Matthew Raymon Hauri, at the 2022 MTV Music Video Awards. The couple was full of PDAs, and their social media was flooded with flirtatious posts. While fans couldn't believe this was undoubtedly happening, the red carpet debut was made a month after the duo was spotted as more than just friends on social media.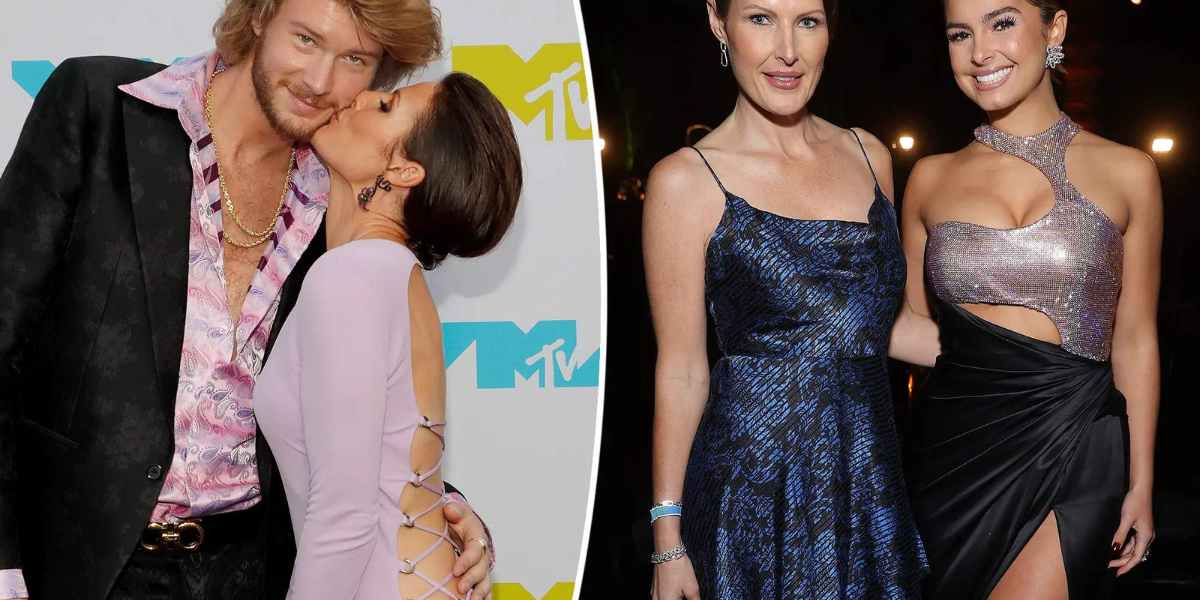 It was a shock for many fans, and while they were still processing the news, Addison Rae's mom's pregnant rumors started circulating on the internet. The internet is a crazy place, and so many suspect the legitimacy of the news. So, to give accurate information about the report, we have researched to clarify any doubts.
Is Addison Rae Mom Pregnant With Rapper Yung Gravy?
Addison Rae mom pregnant news is fake, and she is not having any child with Yung Gravy. This news is just a fabrication solely to create unnecessary hoax news. TikTok is a popular platform where fake news trends, such as Lois Griffin's hoax death. Sheri is the latest victim after a TikTok user, "justjayyy888," uploaded a TikTok video having a screenshot displaying the news title "Addison Rae Reveals Sheri Is Pregnant with Rap Artist Matthew Raymon Hauri Also Known As Yung Gravy." In just a short period, the video went viral. It got a whopping 9.5 million views and a massive 400k+ likes.
Of course, Yung Gravy and Sheri have previously confirmed their relationship. But the pregnancy rumors are just a fan-made story. The user went as far as to edit the images, but the short video led the fans to believe the news. Moreover, the statement also caught the attention of the mainstream media. Later, it was clarified that there is no truth to Addison Rae mom pregnant story updates.
Why Did Sheri Easterling Break Up With Monty Lopez?
Sheri and Monty are parents to three beautiful children: Addison Rae, Enzo Lopez, and Lucas Lopez. The former couple initially separated legally when Addison was very young. But then they remarried again in 2017. There was a lot of instability in the family, leading them to relocate. But in July 2022, news about Monty's infidelity surfaced. It was said that Monty was having multiple affairs. And interestingly, all the women were young, close to the same age as his famous daughter.
Renee Ash was one of Monty's secret affairs. She knew Monty's relationship with Sheri was over when they started their fling. But when she realized the truth, she broke up. She even revealed that Monty was having a relationship with other women simultaneously.
Upon learning this, the former couple split. Moreover, Addison Rae was heartbroken upon finding the truth. It wasn't very comfortable when she got to know the news about her father. Besides, it was heard that Addison was only partially happy with Sheri dating Yung Gravy. Though the relationship was not that long, this didn't stop Addison Rae's mom's pregnancy news from going viral.
On the other hand, when the news about Sheri dating Yung is out, Monty challenges Gravy to have a faceoff in the ring. He also passed a dirty remark about Yung having his leftovers on Instagram. This was way below the belt before Addison Rae's mom's pregnancy rumors.
Is Sheri Nicole and Yung Gravy Still Together?
Sheri and Yung have broken up way back. The 26-year-old rapper revealed that the two are still in touch with each other, but there is nothing between them. While speaking to Billboard, Gravy said he didn't expect the fans' reaction to being this crazy. He did share his original plan of taking Martha Stewart on a date with him that night. But since she was busy, he approached Sheri, and they hit it off. They went for two more dates before calling it off.
Gravy also addressed Addison Rae's mom's pregnancy rumors and said she was not pregnant. They are just friends, and there is nothing more than that. The former duo may have gone separate ways, but Gravy still has her back.
Sheri is currently single, and she is ignoring all of Addison Rae's mom's pregnant gossip. The star's mom is now enjoying her life and looking forward to having positive energy. So, please verify any news before believing it!