After signing a coaching contract with the LSU Tigers, Kim Mulkey net worth quickly skyrocketed. As the women's basketball team reaches the top four, let us look at Kim Mulkey net worth and journey as a star coach. 
Kim Mulkey Net Worth
As of 2023, Kim Mulkey net worth stands at $5 million. Her successful career as a player and coach is the reason for her financial achievements. Whichever team Mulkey coaches end up winning championships, and this track record of hers makes her a highly sought-after coach. Therefore, she also has a high salary. She has also gained immense respect and admiration in her community due to her success. 
Kim Mulkey's Achievements
Mulkey is currently the head coach of the Louisiana State University girl's basketball team; however, she was a star player during her playing days. She is a Pan-American gold medalist and an Olympic gold medalist from 1983 and 1984, respectively.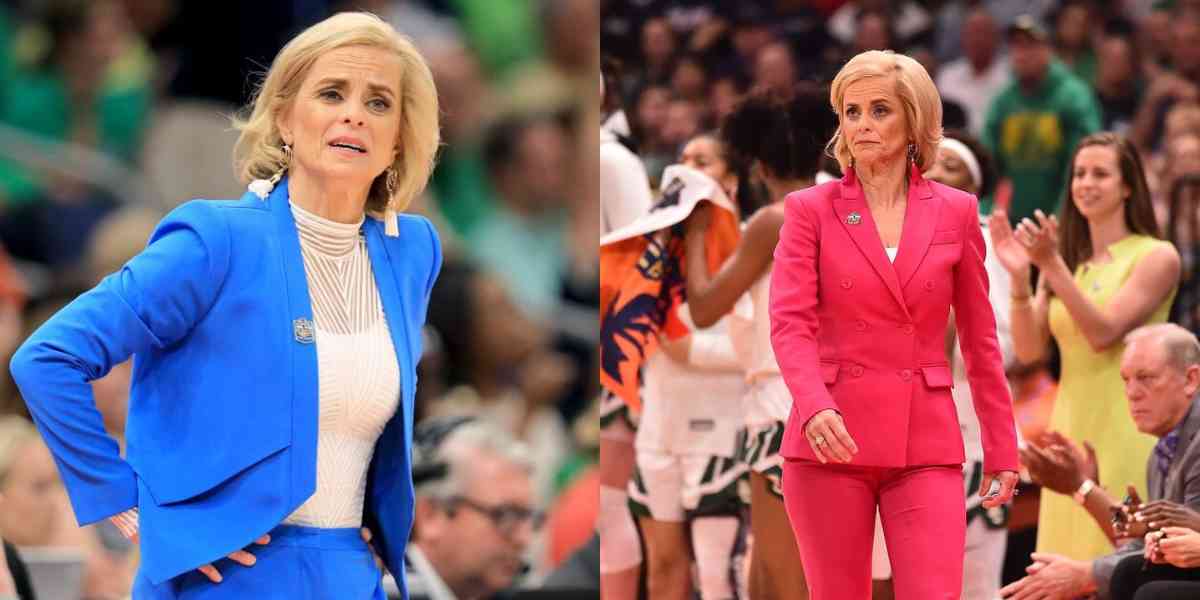 She is also the first person in NCAA women's basketball history to win championships as a head coach, assistant coach, and player. 
Related: Derek Wolfe Net Worth: Everything We Know So Far
While working at Baylor as their coach, she led the team to three championship trophies in 2005, 2012, and 2019. Due to her achievements, Mulkey landed a spot in the Women's Basketball Hall of Fame in 2000. Later she also joined the Naismith Memorial Basketball Hall of Fame.
How Being the LSU Head Coach Impacted Her Net Worth
After ending her contract with Baylor, Mulkey signed an 8-year tenure with LSU in 2021. Through this contract alone, Mulkey stands to earn a whopping $23 million over eight years. 
Kim's salary for the 2022-2023 season is about $2.14 million, making her one of the highest-paid women's basketball coaches. However, this salary does not include the bonuses she is set to receive as the LSU girls fight their way through March Madness.
NCAA Tournament Bonuses
In just two years of her contract at LSU, Mulkey proved why she is one of the best basketball coaches. As the March Madness season continues, the LSU girls' basketball team is now in the top four. While career-wise, this is a massive achievement for Mulkey, financially, it benefitted her quite a bit as well.
Mulkey's contract states that she will receive additional payouts each time the LSU girls' basketball team progresses during the basketball season. With the team now in the top four, Kim Mulkey secured an impressive $179,000 till now. Her bonuses for this season are as follows:
Related: Vanderpump Divorce: Uncovering the Reasons Behind the Divorce of 'Vanderpump Rules' Stars Katie and Tom
Appearing in the NCAA tournament: $28,000

Reaching Round of 32: $30,000

Reaching the Sweet 16 Round: $33,000

Reaching the Elite Eight Round: $38,000

Reaching the Final Four: $50,000
That's not all; if the LSU Tigers continue to progress, Mulkey can find herself with an additional bag of $225,000. The star coach will get a $75,000 bonus if the team reaches the finals and an incredible $150,000 bonus if her team wins the championship. This amounts to a grand total of $404,000 in the form of bonuses from the March Madness season. 
Additional Contract Incentives
Apart from the winning bonuses, Kim Mulkey net worth also significantly increases due to the additional incentives given to her by LSU. These include: 
SEC Tournament champion: $35,000

SEC Regular Season champion: $65,000

SEC Coach of the Year: $10,000

National Coach of the Year: $15,000

Finish the season ranked 1-10 in AP Poll: $30,000

Finish the season ranked 11-25 in AP Poll: $25,000
These are some solid incentives for Mulkey to prove herself as the best women's basketball coach. 
Kim Mulkey Buyout
While Kim's contract is full of incentives and bonuses, it also contains clauses that secure her and LSU's future. Moreover, according to the agreement, if LSU fires Mulkey before the end of her tenure, the university will owe her $2 million. This is in place to provide a safety net for Mulkey in case she ever loses her job unexpectedly. 
Conversely, if Mulkey decides to leave LSU before her tenure ends in 2029, she would owe the university the same $2 million. These terms are in place to ensure that both parties follow the contract. 
Given Mulkey's stellar reputation and achievements with the LSU Tigers, it is highly unlikely that either party would face major disagreements.
Kim Mulkey Assets
Unfortunately, We do not know much about Mulkey's exact assets that amount to her commendable $5 million net worth. Although, we do know that her contract with LSU earned her a $1000 automobile allowance and a country club membership. 
Related: Umbrella Academy Season 4: Everything We Know So far
Kim Mulkey's Personal Life
Kim Mulkey, whose full name is Kimberly Duana Mulkey, was born on 17th May 1962 and is a native of Tickfaw, Louisiana. Her parents are Lez and Dru Mulkey, and she has a sister called Tammy Mulkey. 
In 1987, she married Randy Robertson, the Bulldogs' starting quarterback. They met at Louisiana Tech and have two children, Kramer and Makenzie. Furthermore, like their parents, both children are active athletes. Kim and Randy divorced in 2006, and she has not married anyone since then.