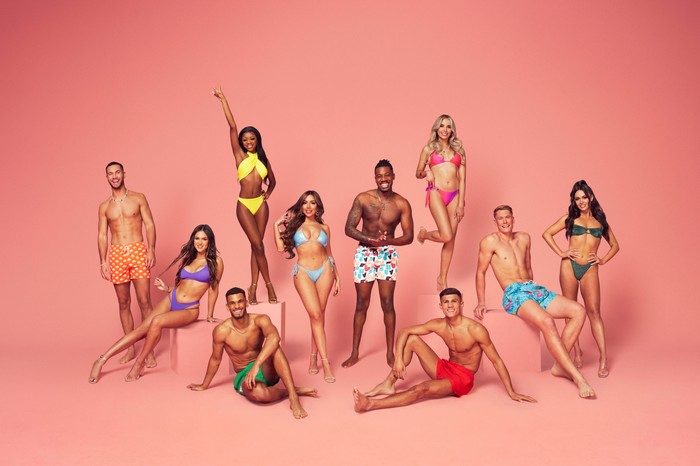 Love Island 2023 cast is all about glamour! Those abs, tans, and sizzling hot contestants of the winter edition of the hit ITV reality show are making the fans go wild. After the official announcement came out, new host Maya Jama was introduced for this special season. In October 2022 we got to learn about the sad exit of the host Laura Whitmore. But with a new season and a set of new faces, we are expecting nothing less than full-on entertainment.
The journey is here to take off with some of the hottest contestants ever. We know you have been excited about the reveal just like we are. To start with a fresh batch of singles, the crew has traveled to South Africa to find the best contestants. So who is in the Love Island 2023 cast and what are their details? The newest housemates of the villa indeed have just leveled up the fun element.
single inferno season 2 release date
Who Are The Love Island 2023 Cast Members?
Love Island 2023 cast has been out. The winter edition was released on 16th January 2023 on Monday on ITV2 and ITVX. The reality series will air on weekdays and then on Sundays at 9 pm. Now, let's straight go through the entire cast list.
Tanya Manhenga, 22
Tanya is a 22-year-old Liverpudlian who has certainly got some degrees. She is a biomedical science student and even an influencer. Moreover, she has vitiligo, a skin pigmentation condition and the influencer is proud of her unique features.
Kai Fagan, 24
A talented science and PE teacher who is from Manchester, she was single by choice. He says that her friends refer to him as chilled and caring but he is very impulsive. Besides, he had made it clear that his friends and family always come first for him. The handsome hunk is also a semi-professional rugby player for teams like Burnage RFC. With three different degrees from three different universities, he even represented Jamaica for rugby 7s.
Lana Jenkins, 25
It doesn't take long for the 25-year-old Lana from Luton to fall in love. To be precise, she confesses her love in just. She is a famous make-up artist who has worked with top celebrities in the industry. Moreover, she has been living in Spain since the age of six-year-old and was also an extra on an episode of Benidorm.
Ron Hall, 25
A charismatic Essex man gracing the Love Island 2023 cast list, he is a financial advisor. As a matter of fact, he is blind in one eye after suffering a football injury at the age of eight. He has blue and green eyes which make him an instant charmer.
Anna-May Robey, 20
The 20-year-old Anna wants a man who will make her laugh. She is a payroll administrator from Swansea and is a powerhouse of energy. As a matter of fact, we would love to see her singing and screaming around.
Will Young, 23
Will had enjoyed a life growing up on a farm and he is a 23-year-old farmer living in Buckinghamshire. His 20 to 25 minutes meditation helps in self-reflection and his main aim is for Sir David Attenborough to play his character if there is ever any movie about his life.
Tanyel Revan, 26
A hairstylist who is packed with confidence, and charisma, the 26-year-old hairstylist believes in loyalty. She is from North London and she has a huge crush on Channing Tatum. Tanyel wants a handsome boy but not a pretty boy with a crap personality.
Blake Lively Is Pregnant For The Fourth Time
Shaq Muhammad, 24
Another London resident in the Love Island 2023 cast, the 24-year-old airport security officer didn't have good luck with finding love. He wants to marry someday and so, he is in search of a serious partner. Moreover, Shaq is a man who always keeps his heart open and wears the same on his sleeve.
Olivia Hawkins, 27
Being a 27-year-old actor from Brighton, Olivia had many roles to play. She was a ring girl for KSI, a film with Jason Statham, a waitress in the famous James Bond film, and also the body double for actresses such as Emma Watson and Michelle Keegan. Quite an impressive portfolio right?
Haris Namani, 21
Haris claims himself to be unique, friendly, and respectful. The 21-year-old TV salesman is yet to fall in love even though he is not that free while talking with girls.
Tom Clare, 23
A footballer from Skelmersdale in Lancashire, he is a non-league Macclesfield FC player. The 23-year-old was also the top scorer of the team in the 2021/2022 season. Currently, he got a leave grant for participating in the show.
Zara Deniz Lackenby-Brown, 25
Beauty with brains, Zara is a model and a property developer at the age of 25. From musical theatre to appearing in music videos, she has indeed worked with Headie One, Tion Wayne, Hardy Caprio, and more.
Best Love Island 2023 cast: David Salako, 24
We have seen quite some contestants from Essex and David is one of the best. The 24-year-old money adviser entered on day three and he has already charmed everyone. But he did have to exit on episode five only leading to the heartbreak of many women.
Finally, here is the entire Love Island 2023 cast list and we are certainly hoping to see more wild card entries!
Hogwarts Legacy Delay: Bad News about Hogwarts Legacy Release Date for PS4, Nintendo, and Xbox One